The 7-8 May 2nd International Conference on Renewable Energy Gas Technology, REGATEC 2015, took place in Barcelona, Spain. The fundamental idea of the conference is to provide a common platform for biogas, gasification, and Power-to-gas players since there are strong synergies between these sectors.
In total 140 people from 26 countries registered for the conference which was opened by Dr. Nakada from the world organisation on renewable energy, IRENA.
The president of the European Biogas Association, Dr. Jan Stambasky, seized the opportunity to launch the association's new "EBA vision and mission". Now the association takes a holistic approach to renewable energy gases, whether they are produced through anaerobic digestion or gasification, which is in line with the fundamental idea of REGATEC.
During the two day conference 64 presentations by leading experts were given, and 17 exhibitors showed the latest within anaerobic digestion, gasification and Power-to-gas.
SEAT and Iveco Spain displayed the new generation of environmentally friendly gas powered cars with superior fuel economy. SEAT Mii Ecofuel consumes merely 2.9 kg/100km which gives a fuel cost of approx.  5€/100km in Sweden and approx. 2.90-3.60€/100km in the rest of Europe.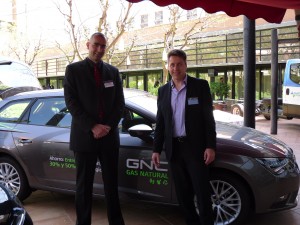 On the photo Dr. Jan Stambasky, the president of the European Biogas Association and Jörgen Held, CEO Renewtec and conference organizer, in front of one of the displayed NGVs, a SEAT Leon ST TGI.
REGATEC 2015 was sponsored by Cortus Energy AB, EQTEC Iberia, EBIOSS Energy, GDF Suez, JTI, Landvärme GmbH, and Schmack Carbotech GmbH.
REGATEC is organized by Renewable Energy Technology International AB (Renewtec AB) and Institute for Biogas, Waste Management & Energy