With some last minute on-site registrations 160 registered participants from 25 countries took part in the 1st International Conference on Renewable Energy Gas Technology, REGATEC 2014.
27 speakers, including 4 plenary speeches, 24 poster presentations and 30 exhibitors make REGATEC 2014 to the largest gasification and biogas conference in Sweden during 2014.
The evaluation gave REGATEC 2014 a high mark (~excellent) but there is still room for improvements regarding the exhibition and the poster session that we will address at the next REGATEC taking place 7-8 May 2015 in Barcelona.
A big thanks to our gold sponsors, NAWARO Bioenergy Park Güstrow, China National Environmental Protection Corporation, Cortus Energy AB and MicrobEnergy GmbH, our silver sponsors, Gasum Oy, Kraftringen AB and Landwärme GmbH as well as all exhibitors, speakers, poster presenters and participants.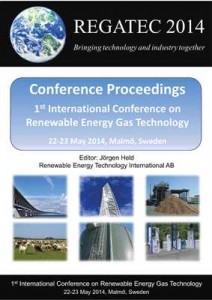 Send an e-mail to Dr. Jörgen Held with your contact details to obtain a free copy of the ISBN numbered conference proceedings in electronic format (18 MB).
By requesting a free copy you agree to be added to the REGATEC Newsletter distribution list.