On the 10th of October Renewtec visited Dr. York Neubauer, head of the Thermochemical Conversion and Process Analysis group at the Department for Energy Technology at Technische Universität Berlin.
Dr. Neubauer's research is directed towards analysis and cracking of tar components in product gas from biomass gasification plants.
Dr. Neubauer takes part in the BESTF project BioProGReSs where the aim is an industrial demonstration of a new tar reforming solution developed at Chalmers, Sweden. TU Berlin's part in the project deals with control of the tar reformer through an innovative online tar monitoring tool developed in-house.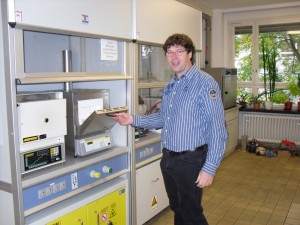 Dr. York Neubauer gives Jörgen Held, Renewtec AB a private tour in the different laboratories. Besides equipment for analysis the department has an advanced laboratory for laser spectroscopy and it's own fludized bed gasifier.