The 21st of October EQTEC Iberia SL in Parets del Vallés outside  Barcelona was visited by Renewtec. EQTEC Iberia markets its proprietary fluidized bed gasifier adopted for agricultural feedstock and forest residues.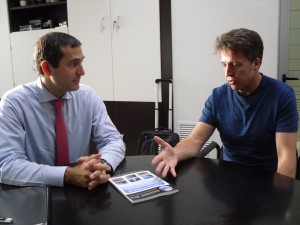 Luis Sanchez Angrill, CEO at EQTEC Iberia in discussion with Jörgen Held. EQTEC Iberia has together with EBIOSS Energy Group signed up as  Gold Sponsor of  REGATEC 2015.
The day after, the 22nd of October, Institut de Recerca en Energía de Catalunya, IREC, was visited. The mission of the Catalan Instutite for Energy Research is to contribute to the sustainable development of society and increase corporate competitivness via
innovation and development of new technological products
medium and long-term research
development of scientific and technological knowledge in the field of energy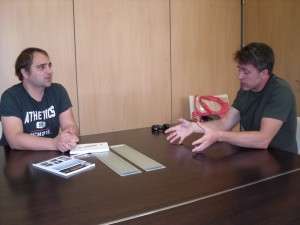 Dr. Josep Carreras, Group Leader at IREC and Jörgen Held, Renewtec in discussion about R&D of renewable methane for grid injection and/or as vehicle fuel.