Jörgen Held, Renewtec AB visited Paul Scherrer Institute (PSI) in Switzerland and agnion's pilot plant in Pfaffenhofen an der Ilm in Germany on the 29th and 30th of October.
PSI has developed a fluidised bed methanation reactor suitable for production of biomethane in the smaller scale (<100 MWth). The reactor has been tested at the gasification plant in Güssing within the European project Bio-SNG where the whole value chain from Wood chips to biomethane as vechile fuel was demonstrated. Commerical partner is CTU.
agnion has developed and commercialised a small scale gasifier suitable for biomethane production. In the pilot plant in Pfaffenhofen an der Ilm has catalytic tar reforming been tested.
Renewtec AB, in collaboration with BioMil AB, conducts 4 case studies on small scale biomethane production based on PSI's and agnion's technology.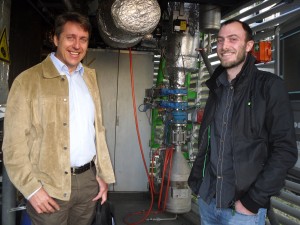 Research engineer, Marco Senger, agnion (to the right) has just showed the pilot plant to Jörgen Held, Renewtec AB. In the background the catalytic tar reforming can be seen. Tests with automatic addition of active catalyst and removal of deactivated catalyst during operation have been conducted.