On the 30th of October the SmaRTGas Baltic seminar took place in Malmö, Sweden. The seminar was financed by the Swedish Institute and arranged by Renewtec AB, Sweden in close collaboration with Tallinn Technical University, Lithuanian Energy Institute and Institute of Power Engineering, Poland.
SmaRTGas stands for Small Scale Renewable Methane Technologies based on Gasification and is focused on thermochemical conversion of biomass and waste to biomethane in the ~10 MW scale.
International experts and technology providers highlighted the ongoing technology development while representatives from Estonia, Lithuania, Poland and the European Biogas Association presented the market situation in the Baltic area and in Europe.
Biomethane through thermochemical conversion of woody biomass and waste offers many opportunities of relevance for the Baltic Sea Region since it transfers indigenous low quality resources including wastes into a renewable high quality transport fuel with superior emission data. Biomethane can be produced with the highest conversion efficiency of all second generation biofuels and distributed in an environmentally friendly way through the natural gas grid. Replacing diesel and petrol with biomethane has many advantages such as positive effects on the air quality, the greenhouse gas mitigation, the security of supply, regional development and new job opportunities.
The programme and the presentations are available for download free of charge at www.smartgas.se/smartgas-Baltic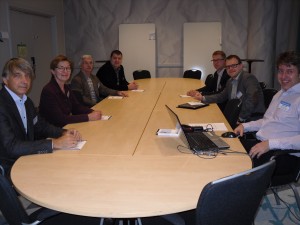 The SmaRTGas Baltic project group, from left, Dr. Tomasz Golec and Janina Ilmurzynska, Institute of Power Engineering, Poland, Dr. Ülo Kask, Head of the Board, Estonian Biomass Association, Dr. Siim Link, senior scientist Tallinn Technical University, Dr. Andrius Tamošiūnas, deputy director and Dr. Nerijus Striūgas, Head of Laboratory of Combustion Processes, Lithuanian Energy Institute and Dr. Jörgen Held, CEO Renewtec AB and SmaRTGas coordinator.
The SmaRTGas Baltic project is a part of the SmaRTGas initiative with the ambition to create and establish the world´s largest innovation cluster on small scale gasification and methanation.
For more info please visit www.smartgas.se